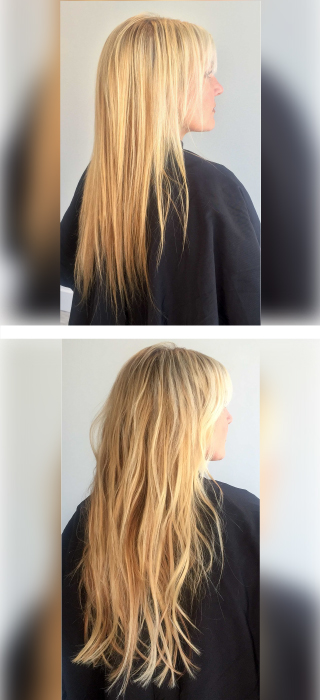 1. Great Lengths: Keratin / Fusion Hair Extensions
Hair is held together through a highly innovative method, created and refined by Great Lengths. This procedure uses Great Lengths keratin; a co-polymeric compound whose molecular structure closely resembles the structure and behavior of human hair: expanding when exposed to water, and contracting upon drying.
The term « Remy » defines hair that, within the same strand, is all in the same direction from the roots to the ends. «Remy» hair is synonymous with high quality and appears healthier, smoother, and shinier; this means that the alignment of the cuticles avoids unpleasant tangling. Our procurement process ensures that all our hair is Remy. We maintain meticulous quality control, guaranteeing the natural direction of the hair across all stages of production. Furthermore, the meticulous quality control guarantees that the natural direction of the hair is maintained across all stages of production.
We use the term "single drawn" when referring to hair coming from India, from a single donor, in bundles comprised of hair of varying lengths. Before it enters the production cycle, Great Lengths hair must become Double Drawn, which means that it has to be divided and matched according to each strand's length.
The most popular of our hair extension methods, GL Pre-Bonded extensions are perfect for adding length, volume or chemical-free color. They are the ideal solution for women who are looking for premium hair extensions with an invisible and seamless application. With proper care and maintenance, they will last from 4 to 6 months. With GL Pre-Bonded hair extensions, the hairstylist can achieve any kind of result: lengthening, thickening, side application, highlights or lowlights.
2. Micro Bead or Micro Links or I-Tip or I-Link or Flat Tip
Micro bead hair extensions offer women who are considering wearing hair extensions, an alternative option to sew-ins, keratin and glue installations. The decision to wear these extension illuminates the avenue to beautiful hair that is vibrant, voluminous, and versatile. There are many ways to add hair extensions to your natural hair, but micro beading provides yet another option for adding length without the muss or fuss of heat or other nasty chemicals that can sometimes prove to be an absolute turn-off.
Micro bead extensions entail the application of individual hair extensions to your hair, strand by strand using small loops that are attached to the hair extension. This process has many names. Also known as micro linking, micro looping, I tip, or I link, this process requires the skills of a specialist or stylist. A micro link installation specialist has the necessary skills loop a hair extension through a piece of your natural hair, ending with a clamp of to secure the hair, using a pair of pliers.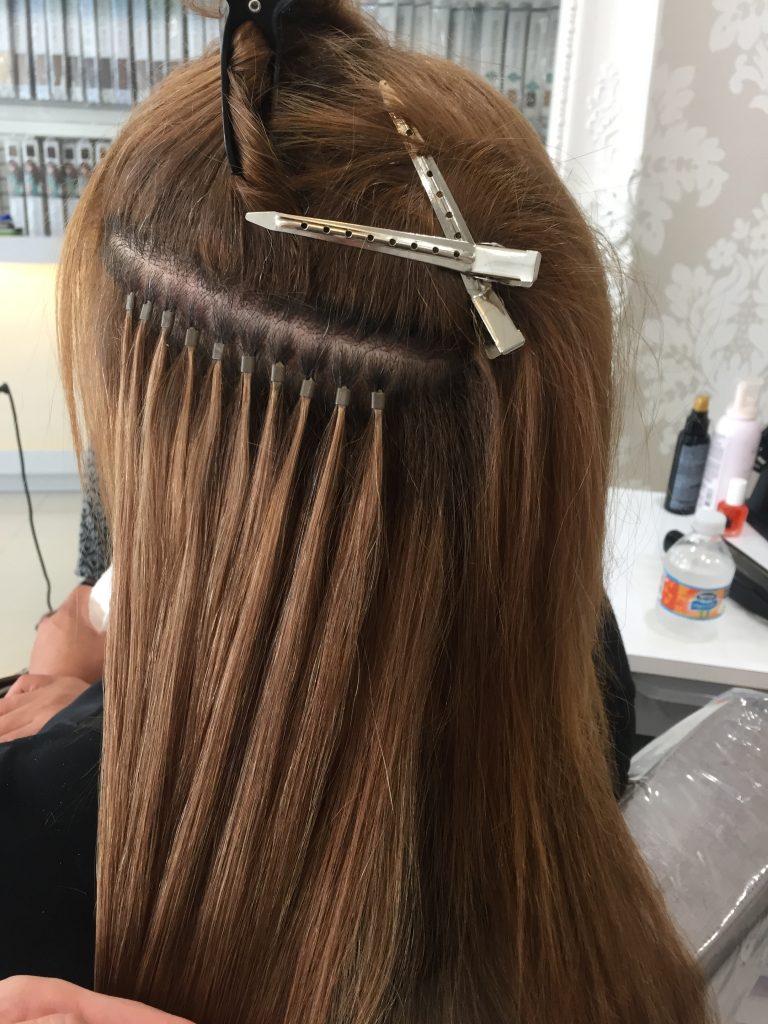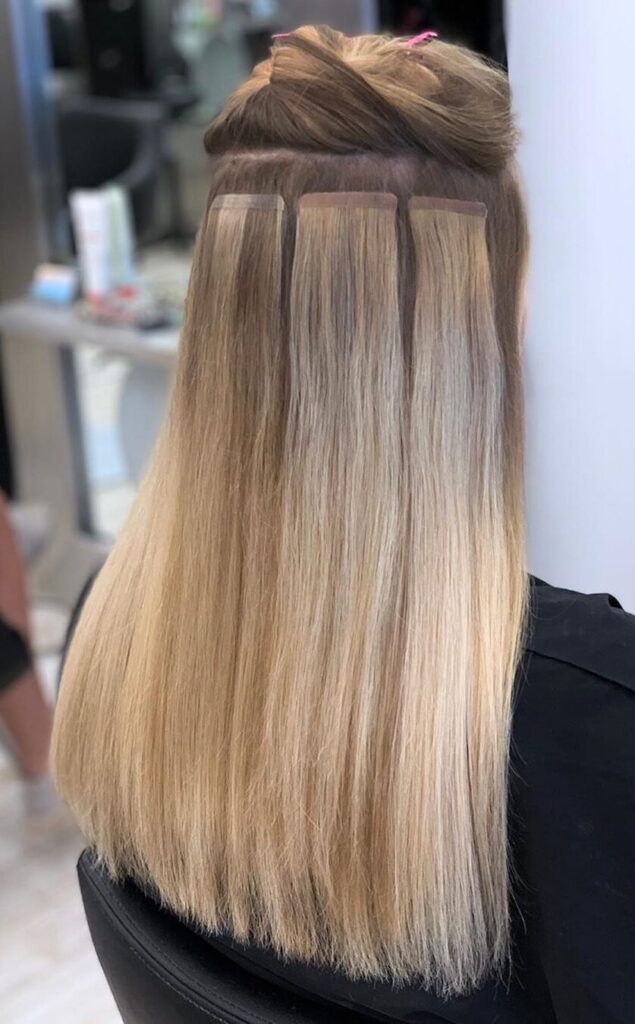 3. Tape in Hair Extensions
Tape-in extensions come with pre-taped wefts made of a medical-grade adhesive and are usually one inch wide. Similar to other type of hair extensions, tape-ins can be made of real human and Remy hair or synthetic hair. For the most natural look and feel, 100% Remy human hair would be the best choice as the hair cuticle is in tact, the hair is usually collected from one donor, and all the cuticles are facing in the same direction. This allows for less tangles, knots, and matting in the extensions and allows you to style the extensions more freely than with synthetic hair.
Tape-ins are considered semi-permanent extensions. Depending on how they're cared for and how fast your natural hair grows, tape-in extensions can last around 4-8 weeks before needing to be changed or re-applied.
After the backing of the adhesive is removed (like a sticker) a thin strip of your natural hair goes in between two strips, so your hair is essentially sandwiched in between the extensions. As the wefts are only an inch wide, it's important to section the natural hair carefully, which is why a professional hand and eye is recommended, especially when applying tape-ins at the back of the head. As the adhesive base is very thin, tape-ins feel light, lay flat against your head, and blend in easily with natural hair. However, ensure the extensions are distributed evenly in terms of length, volume, and texture around the head for the most natural look.